presented by Scripps Ranch Theatre
Legler Benbough Theatre | Scripps Ranch
May 19 – June 11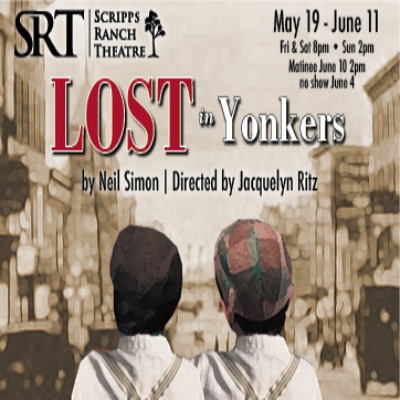 By America's great comic playwright, this memory play is set in Yonkers in 1942. Bella is 35 years old, mentally challenged, and living at home with her mother, stern Grandma Kurnitz. As the play opens, ne'er-do-well son Eddie deposits his two young sons on the old lady's doorstep. He is financially strapped and taking to the road as a salesman. The boys are left to contend with Grandma, with Bella and her secret romance, and with Louie, her brother, a small-time hoodlum in a strange new world called Yonkers. This Pulitzer Prize-winning play deceptively hides real honest life affirmation between jokes and shows why Neil Simon has been called "the Shakespeare of his time", and possibly the "most successful playwright in history".

COVID-19 POLICY:
In alignment with the State of California, which has removed mask and vaccine requirements for indoor events, effective August 2022, Scripps Ranch Theatre will not require patrons to provide proof of vaccination or to wear masks while attending shows. However, the wearing of masks is still strongly encouraged, and we ask everyone to please consider the safety of our actors and fellow community members at all times. We will make masks available at all shows, and will do our best to accommodate the switching of tickets if an audience member is feeling ill.
Support-the-Arts Full Price: $42 + Fee
ArtsTix Discount: $21 + Fee